Introduction
Managing diabetes insipidus just got a significant boost, thanks to the groundbreaking work of the Raymond A. Wood Foundation in collaboration with Giner, Inc. and the Children's Hospital of Philadelphia. Together, they are spearheading the development of an at-home sodium meter that promises to revolutionize the way blood sodium levels are monitored.
The Science Behind the Innovation
Giner, Inc. has made remarkable strides during the NIH/NIDDK Phase I SBIR program. They have harnessed the power of their novel solid contact ion selective electrode (SC-ISE) technology to create a blood sodium test with impressive capabilities. Here are some of the key achievements:
Precise Calibration Curves: The team at Giner achieved repeatable Nernstian calibration curves in both phosphate-buffered saline (PBS) and plasma, with an extraordinary sensitivity of less than 5 mM.
Long-Term Stability: The developed technology demonstrated minimal performance degradation over a span of three months, ensuring reliability and accuracy in long-term usage.
Impressive Accuracy: With a remarkable 4 mM accuracy in Plasma, Clinical Laboratory Improvement Amendments (CLIA) proficiency samples, and whole blood, the test results are on par with established gold standard clinical blood analyzers.
Innovations Leading the Way
To further enhance the sensitivity and stability of the test strip, Giner introduced a 3D printed ion-selective electrode, a breakthrough development that promises to take the technology to new heights.
Next Steps: A Glimpse into the Future
As Giner advances into the NIH Phase II program (currently under review), their focus will be on creating a prototype testing system that guarantees rapid, precise, and highly sensitive measurement of blood sodium levels. This prototype will then undergo rigorous usability testing and pre-clinical validation at the Children's Hospital of Philadelphia (CHOP).
Acknowledging the crucial support from the Raymond A. Wood Foundation, Giner is geared towards two main objectives during this interim period:
Further Testing for Statistical Significance: While Phase I results are promising, Giner recognizes the importance of robust statistical validation. This phase will require additional materials for ion-selective electrode (ISE) fabrication, along with more i-STAT cartridges for benchmarking.
Enhanced Sensor Chip Development: By bringing the 3D electrode printing process in-house, Giner aims for faster iterations and greater control over the ISE fabrication procedure. This initiative involves acquiring 3D printer filaments/materials and dedicating time to develop a procedure that consistently produces high-quality sensors.
A Leap Towards Publication and Prototyping
Giner's commitment to transparency and scientific rigor is evident in their pursuit of additional data for an anticipated peer-reviewed journal publication. Simultaneously, the team will embark on the prototyping process for the chip housing and the at-home analyzer, a crucial step that necessitates a high-resolution resin printer and meticulous design modifications.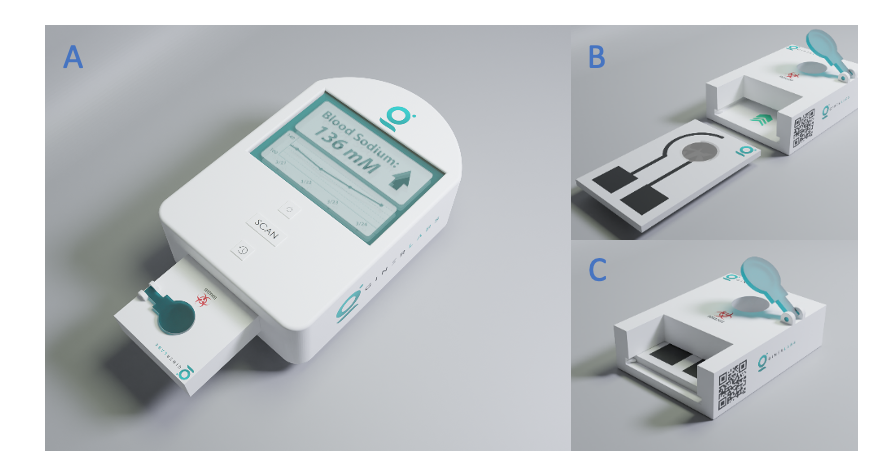 (A) Giner's prototype at home analyzer; (B and C) Disposable cartridge and its detailed subcomponents
Conclusion: Pioneering Progress in Blood Sodium Testing
The strides made by the Raymond A. Wood Foundation, Giner, Inc., and their partners mark a significant leap forward in diabetes insipidus management. The development of the at-home sodium meter holds immense promise for those living with this condition, offering them a more convenient and accurate way to monitor their health. As Giner looks ahead to Phase II, the future of this technology appears brighter than ever, with the potential to transform lives and shape the future of healthcare.
Special thank you to the Giner team: Avni Argun, Andrew Weber and Ben Beretvas, and Shana McCormack, MD, MTR and Khusbu Patel, PhD, DABCC, our clinical partners at CHOP.
You can help support this innovative work by making a gift designated to this project. Find out more »