Why Work with Raymond A.
Wood Foundation
The Raymond A. Wood Foundation (RAWF) is a growing nonprofit organization that works to improve the lives of hypothalamic brain tumor patients. Many of these patients – both kids and adults – survive these tumors only to suffer from long-term medical challenges and cognitive issues that severely impair their quality of life and the lives of those who care for them. RAWF's mission is to advocate for these brain tumor survivors and their caregivers through innovative research, educational initiatives, and support systems. Not only does this work directly impact the lives of the brain tumor community we serve, but also the associated research discoveries and advancements have ripple effects on the larger ecosystem of research around brain tumors, obesity, endocrine issues, and more. 
We play a vital role in supporting individuals and families affected by these tumors, which are often characterized by limited research, few treatment options, and a lack of awareness. Working with a rare disease patient advocacy organization like RAWF can be incredibly meaningful and impactful for a variety of reasons:
Making a Difference: Working with a RAWF allows you to directly impact the lives of individuals who are facing unique challenges. Your efforts can contribute to raising awareness, improving access to care, and advocating for better research and treatment options.
Personal Fulfillment: Helping individuals and families affected by these tumors can bring a profound sense of personal fulfillment. Your work can lead to tangible improvements in the quality of life for those living with these conditions.
Advocacy and Awareness: Rare diseases often receive limited attention and funding compared to more common conditions. By working with an advocacy organization like RAWF, you can raise awareness about these diseases, educate the public, and advocate for increased research funding.
Community Building: RAWF works to create a sense of community among individuals and families who might otherwise feel isolated due to the rarity of this tumor and the conditions that patients face. You can help create a supportive network where people can share their experiences, find resources, and offer each other emotional support.
Collaboration: Collaborating with medical professionals, researchers, pharmaceutical companies, and policymakers is often essential to advancing rare disease research and treatment options. By working with RAWF, you can help facilitate these collaborations and drive progress.
Skill Development: We provide opportunities for skill development in areas such as community engagement, fundraising, event planning, public relations, and advocacy. These skills can be valuable in various professional settings.
Innovation: Because rare diseases often lack established treatment protocols, there's room for innovation and creative problem-solving. Your contributions could lead to the development of novel approaches to diagnosis, treatment, and support.
Impact on Policy: Advocacy organizations play a crucial role in shaping healthcare policies related to rare diseases. You can be part of efforts to influence policies that improve access to treatments, increase research funding, and enhance patient care.
Educational Outreach: These brain tumors and conditions caused by them are complex and poorly understood. Working with an advocacy organization allows you to educate healthcare professionals, researchers, and the general public about these conditions, leading to more accurate diagnoses and better care.
Long-lasting Relationships: The connections you form with individuals and families affected by these brain tumors can be incredibly meaningful. You'll have the opportunity to form lasting relationships and witness firsthand the positive impact of your work.
Overall, working with a rare disease patient advocacy organization like the Raymond A. Wood Foundation offers a unique chance to contribute to a cause that is both rewarding and essential. It allows you to be part of a dedicated community striving to improve the lives of those facing immense challenges and to effect positive change on a larger scale.
Raymond A. Wood Foundation is an equal opportunity employer. We shall not discriminate and will not discriminate in employment, recruitment, Board membership, advertisements for employment, compensation, termination, upgrading, promotions, and other conditions of employment against any employee or job applicant on the basis of race, color, religion (creed), gender, gender expression, age, national origin (ancestry), disability, marital status, sexual orientation, or military status, or for any other discriminatory reason.
Core Values & Guiding Principles
Creativity and Innovation
Seeking new approaches to create solutions or improve systems to better serve the community.
Integrity and Transparency
Inspiring trust through open communication internally and externally.
Empathy, Care and Compassion
Always operating from a place of understanding of the challenges that face all within the community.
Ethics and Confidentiality
Keeping all information pertaining to patients, survivors, caregivers and healthcare professionals in confidence.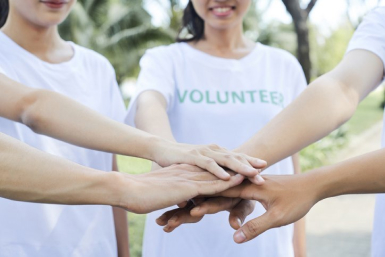 Volunteer With Us
We're always looking for volunteers and volunteering with us is an incredibly rewarding experience. You can make a real difference in the lives of those you serve, and benefit yourself in the process. Our volunteers gain valuable skills such as communication, problem-solving and leadership.